Packing Services & Supplies
Packing Services & Supplies in East Sussex
When it comes to that all important moving day, preparation is key. At Movers of Sussex, we are on hand to provide everything you need before, during and after your move.
We can supply packing boxes in a variety of sizes and wrapping materials or, should you wish, we offer an at-home packing and unwrapping service for when your goods arrive at their destination.
While your furniture and items are in transit, you can rest assured that our robust, industry-standard blankets, straps and bungees are keeping everything secure.
The choice of service is entirely up to you but whatever one you choose, Movers of Sussex guarantees your items are safe in our hands.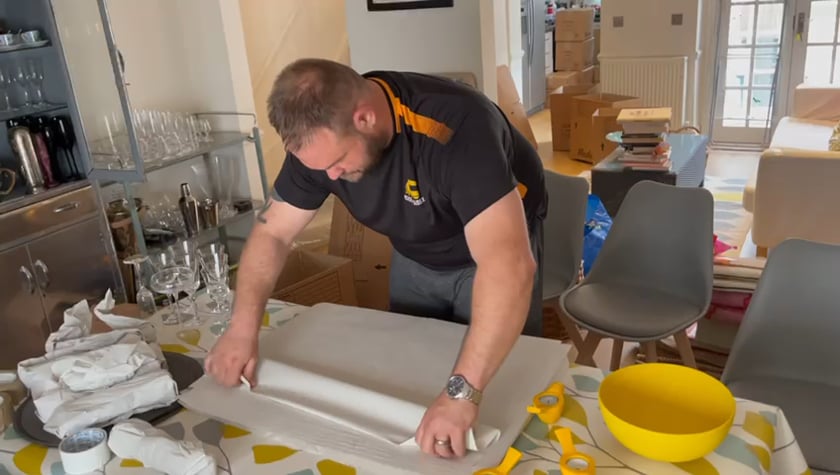 Full Range of Packing Solutions
Busy lives leave little time for packing – that is why at Movers of Sussex we aim to make things as simple and straightforward as possible.
We offer a time schedule that works around you and your family and we discuss all the options well in advance of moving day.
All our services come with competitive rates and a 100% customer satisfaction guarantee.
Read on to find out more about our packing and supplies services.
We Wrap, We Pack
For customers across the area, Movers of Sussex offers a bespoke wrap and pack service. Our experienced packing team will arrive in plenty of time to get the job done. We work room by room, quickly and carefully to ensure everything that is due to be packed is ready and waiting to be loaded on to the vans as they arrive. We supply all the package materials and the correct amount of people to get the job done. All our staff have been DBS checked and are First-Aid trained.
Premier Packaging
How you prepare your property for the coming move is, of course, your prerogative. And that is why at Movers of Sussex we are happy to supply all the self-pack materials you may need. We offer strong packing boxes designed specifically to withstand the rigours of household moves. Alongside this, we also provide bubble wrap, packing paper and tape so you can make sure all your items are secure within the boxes.
Comprehensive Cleaning Provision
Once all the packing, storing and loading is complete, as part of our unique removals offer, Movers of Sussex also provides a professional cleaning service. We can be called upon to clean the property you are leaving and the property you are on your way to. Moving day can be long and stressful, so why not let Movers of Sussex take the strain, leaving you free to prepare for your new home.
Unwrapping Offer
While many removal companies offer to pack your goods pre-move, Movers of Sussex will also unwrap your items once you arrive at your new home. Simply instruct our team as to where you want things to go, then simply leave everything in our capable hands. At Movers of Sussex we do so much more than move you from A to B, aiming wherever we can to do that extra mile to make your move a day to celebrate.
At Movers of Sussex we offer a wide range of services that are open to all our customers and all individually priced. If however, you simply want us to pack, move and unload then we are more than happy to do so. Not only that, but we are happy to provide you with a wide range of packing materials, even we are not instructed to carry out the move. Whatever you need to get you moving, Movers of Sussex is here to help and you can reach us five days a week from 8am-6pm by calling:
01424 239107
or
01892 317220
or
07930 396418
. We look forward to getting you on the move.